There are many ways to keep up on the news for your local community – online, in print, TV, radio, etc.   One particular resource has been around since 1990 and it specializes in Seminole County:  the Seminole Voice.
The newspaper has an electronic newsletter version in addition to the website's varied coverage of news and events.   The official website describes Seminole Voice in this way:
"About the Voice
The Voice began publishing in Oviedo in 1990. In 2000, the Voice added the city of Winter Springs to its coverage area. The Seminole Voice is a bi-weekly newspaper in Central Florida's highly desirable, affluent areas of Oviedo, Winter Springs, Geneva and Chuluota.
In its 21st year of business, the Seminole Voice is the area's most well-known, well-respected and widely read publication, praised for its independent reporting and commentary on current issues, the arts, local schools, youth and collegiate sports, business, law enforcement and personality profiles. In addition, the Seminole Voice covers and analyzes the impact of local government on the community.
Special Features included in the Seminole Voice newspapers are: "Between the Celery Stalks" by Janet Foley; "Stetson's Corner" by Karen McEnany Phillips; and "From My Garden to Yours" by Tom Carey."   from http://www.seminolevoice.com/news/2010/nov/30/about-us/ on June 18, 2012.
Categories of coverage for this online resource include:  Home, Photos, News, Lifestyles, Sports, Columnists,
Voices, Events, and Subscription Information.   There is also an entire section devoted to Classified Ads with ads for many items from automobiles, real estate, services, products, and others.
An interesting recent article from Seminole Voice is a fun, personal look at Oviedo City Councilman, Stephen Schenck, along with photos and his favorite recipe Oviedo's Own Citrus Ceviche that won 2nd place in the Taste of Oviedo's Citrus & Celery Cookoff!
Overall, Seminole Voice is a good addition to your regular stops for local news and information about Central Florida and  especially if you live in Oviedo, Winter Springs, Geneva and Chuluota.  Go take a look!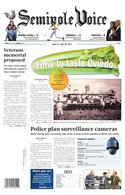 About Ken: Ken Rhoden is a 2012 Brevard County Public Defender candidat for election and a Seminole County Public Defender 2012 election candidate (18th Judicial Circuit covers both counties). He has resided in Brevard since 1975 and is a true Florida native having been born in Jacksonville.  Ken worked his way through and graduated from BCC, UCF, and FSU School of Law.  He has been practicing law in Brevard for more than 26 years.   Twelve of those years as an Assistant Public Defender (in the office of the 18th Judicial Circuit) and the rest as a partner at the largest criminal and largest family law firm in the county: Mario, Gunde, Peters, Rhoden & Kelley. You can call Ken on his personal cell phone at 321-368-3151 or email him directly at ken@kenrhoden.com if you have any questions or comments.